AW Android App
OsHiThA
:9 month(s) ago
awesome work
*
•
Like [0]
---
ReYmAx
:9 month(s) ago
Logging out when i get out and come in
*
•
Like [0]
---
CHiNa
:9 month(s) ago
@reymax
thank you for commenting about the app, we will surely fix these errors in the next major update. Keep in touch
*
•
Like
[4]
---
CHiNa
:9 month(s) ago
And still, you can't use app and web site at the same time we will fix this issue, soon as possible.
*
•
Like
[2]
---
OsHiThA
:9 month(s) ago
notification is working.
.
ara yatin tyna icons tika udin tibbanm
yatin tyddi nkn weird wge . Color ekat classic wge.
mobile eke back button eken click krddi app eken exit wenna ahanwa. Beta version eka wdyta meka sarthakaiii.. good job
@china
@araa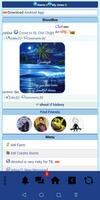 *
•
Like [0]
---
Post reply
Replies: 196 - Views: 11375
Inbox(9/9)
«PREV Next»
2/40

First Page
Last Page
Like Topic[0 Likes]


Home>Forums>[:: ARAWAP ::]
>Arawap info>AW Android App