HOT NEWS FOR CORONA
DJ_AMITH
:22 days ago
It is spread through respiratory secretions (sputum, respiratory droplets) and contaminated fomites (objects or materials which are likely to carry infective agents such as clothes , utensils and furniture)  Symptoms of Corona virus disease are fever, runny nose, sore throat, cough and
---
DJ_AMITH
:22 days ago
difficulty in breathing.
---
zaNaa
:22 days ago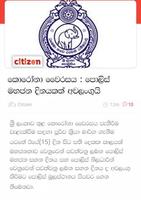 ---
DJ_AMITH
:22 days ago
 Symptoms develop from 2 days to 10 days after entry of virus into the human body.  Persons infected with virus but yet are asymptomatic (not showing any symptoms) can spread the disease for a few days prior to appearance of symptoms.
---
DJ_AMITH
:22 days ago
In view of possible importation of Corona virus disease (2019-nCoV into the country), it is essential to adhere to the following practices for a period of 14 days from the time of arrival in Sri Lanka.
---
Post reply
Replies: 494 - Views: 3423
«PREV Next»
2/99

First Page
Last Page
AraWap.net 2003-2020