AW New year Game!!
aRaa
:1848 days ago
here is the 1st Challenge this is easy any1 Can Do this...
You have to Take A photo hanging With Arawap.net Banner
This is an example photo .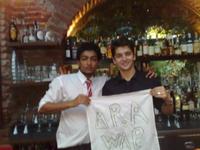 aRaa
:1848 days ago
this is a type of challange game!!
Winning Prize = 500 Gold Coins (U can Convert Gold Coins to Rs150
, Rs150
Reloads / AW Credits or AW premiums .. as u wish)
--- Closing date is Next saturday!!
---
aRaa
:1848 days ago
New year game 01 Game Rules
u also hv to be in the photo
Arawap.net banner text should be Clear and readable
Dont upload Grapic edited photos
Pls Dont Post anything in this topic , Only Upload AW new year game photo
---
aRaa
:1848 days ago
19 users joined this game !! its really dificult to select 5 winners , but we select
5 winners
considering game rules and other activities in arawap
Winnerz
1]
CountHelsingVan
2]
de-carnage
3]
BigBoss
4]
KIdurI
5]
AtulRaj
and we decided to select other ALL joined users as winners!! so all others get
Rs50 real money reload / 200 Gold coins
---
aRaa
:1848 days ago
i kindly request again .. plz dont post other thingz than you game photo
...game started!! Good luck friendz..
---
Post reply
Replies: 76 - Views: 13640
Next»
1/16

Last Page
AraWap.net 2003-2021